North Carolina will soon have a new Clean Energy Plan. The draft was released August 16 by the Department of Environmental Quality (DEQ), which was instructed to prepare it by Governor Roy Cooper in his October 2018 Executive Order 80 addressing climate change.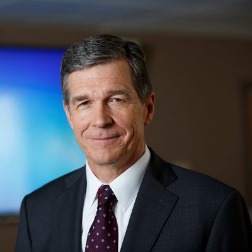 There's some good in the plan and some things left to be desired. Use our thoughts below to provide comments. Or check out the draft yourself (pp. 17-29 are a good summary). Then help us call for accountability.
How to let your voice be heard:
Go to the DEQ comment page.
Under "category" select "Other/general" if you don't find a category that fits.
Make sure to file your comments to DEQ by September 9.
Then tell the Governor to actually implement this plan and to stop supporting climate-destroying fracked gas infrastructure and the forest-destroying wood pellet industry: (919) 814-2000, contactgov@nc.gov. If gas and wood pellets continue, North Carolina will keep making climate change worse, not better.
Submit Your Comments          Email the Governor
Let DEQ and the Governor know we will hold them accountable for implementing the plan and for connecting the dots between the realities the plan acknowledges and those it does not. Read more below!
Our Take on the Clean Energy Plan: What's Good?
If fully implemented, the plan would reduce CO2 emissions in the electricity sector 60-70% below 2005 levels by 2030 and work toward zero emissions by 2050. But it does not address the methane (a greenhouse gas 100 times as potent as CO2) that's spewing from Duke Energy's fracked gas expansion or the emissions associated with the rapidly expanding NC wood pellet industry.
The plan includes some policies we support, assuming they are designed properly, including:
new financing measures (Property-Assessed Clean Energy, utility on-bill financing, a green bank or clean energy fund);
expanded use of solar, storage, energy efficiency, electric vehicles, offshore wind and microgrids;
a holistic overhaul of the utility business model that would align Duke Energy incentives with the public interest and take social and environmental costs into account when deciding on our future electricity sources;
measures to increase transparency and competition in the NC electricity sector;
measures to make electricity more affordable for low-income customers and include historically marginalized people in decisions about facility siting and program implementation; and
improvements to existing solar programs such as rebates, leasing and community solar.
What Needs Fixing?
Unfortunately, there are several serious drawbacks to the plan. It completely fails to address methane emissions. The emission figures in the plan are for carbon dioxide only. But super-potent methane is spewing into the atmosphere at an alarming rate from fracking operations, all the way from the wellhead to the power plant.
Duke Energy is planning to continue its massive expansion of fracked gas infrastructure and there is no call in the plan for ending, or even slowing, that expansion. If Duke is allowed to build new gas plants, pipelines and gas storage facilities, the state will claim to have achieved its 2030 goals while actually allowing a climate-wrecking amount of methane to be released into the atmosphere.
The Governor and DEQ repeat Duke Energy's claim that emissions have already fallen 34% since 2005, which is only true if you count CO2 alone and pretend methane doesn't matter.
Gas is also an economic disaster. Renewables create more jobs than gas and, according to Forbes, new gas plants built now will be "junk assets" as renewable and storage prices continue to drop.
Similarly, there is nothing in the plan that stops the ongoing clear-cutting of North Carolina forests to produce wood pellets to be burned in Europe, despite the fact that intact forests are an important climate solution in that they absorb the CO2 that humans emit. Nor does DEQ count the enormous emissions from logging, processing and burning the wood pellets.
Governor Cooper has supported both gas infrastructure (like the Atlantic Coast Pipeline and the liquefied natural gas storage facility planned for Robeson County) and the wood pellet industry (expansion of Enviva operations).
Finally, the success of the plan depends on it being fully and rapidly implemented. If the Governor and DEQ rest on their laurels, it will not happen. They must push the legislature to pass the laws recommended by the plan. They must push the Utilities Commission to begin regulating Duke according to the recommendations in the plan.
Call on DEQ and the Governor to recognize the urgency of the climate crisis – which has just given the world its warmest July ever and record melting of the Greenland ice sheet – and to push for real climate action now!
Submit Your Comments          Email the Governor
Want to do more? Check out another product of Executive Order 80: the Department of Transportation's electric vehicle plan (comments due September 6).